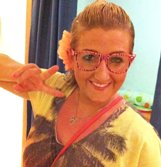 Need style advice for Ibiza?
Now they say that "anything goes". Although that's true to an extent, there are a few guidelines to follow to make sure that you don't 1) get mistaken for a hooker and 2) get turned down from your favourite clubs.
So you've booked your flights to Ibiza (I found some great prices for flights here) and you've found a beautiful beach front apartment overlooking the famous Bora Bora (way better than San Antonio). But what to pack?
Organising your outfits weeks before you fly is a perfectly natural thing to do for an Ibiza-goer because the party island is all about style.
What to Wear in Ibiza: Photo Inspiration

Ibiza isn't an excuse to get naked – although some of my photos may appear that way. There are so many ways to pull of Ibiza chic and if you've been working your arse off at the gym, why not get a little flesh out for your favourite DJs? As long as you do it stylishly in a way which incorporates the season's trends, there's nothing wrong with a bit of swimwear-turn-clubwear.

1. Do flash the abs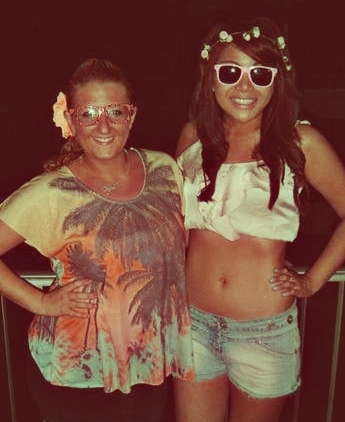 Ab-flashing is totally optional; here Rachy has decided to cover up with a funky tropical top and I've softened my belly-exposing outfit with a flower hair garland. Note: flowers are always chic in Ibiza!
2. Embrace the prints (especially animal print)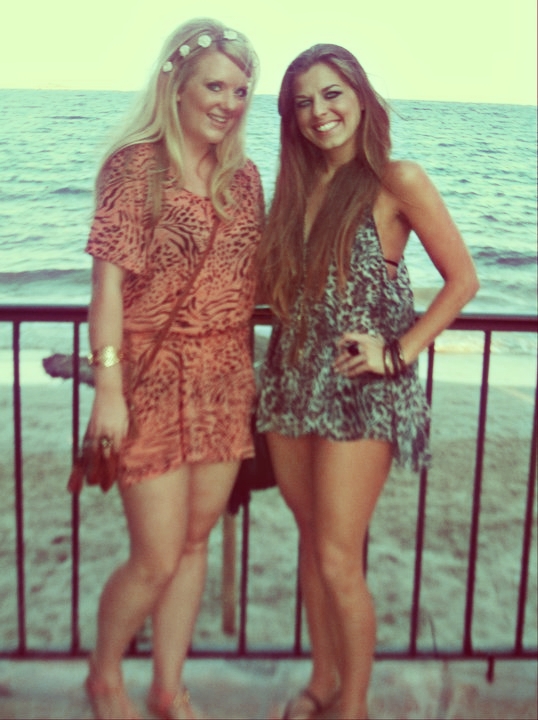 Animal print always looks hot in Ibiza but this summer, there are so many trendy prints coming into the shops so make sure you embrace them!
3. Sunglasses in a club = ok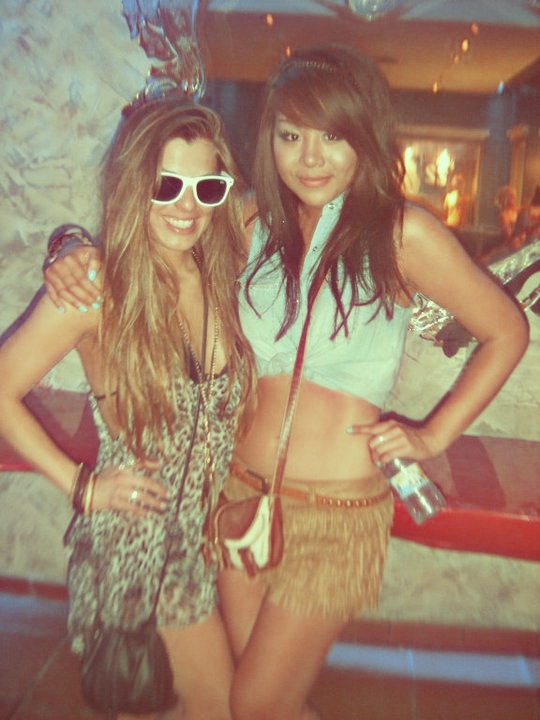 This is one of the very few places on earth where you won't look like a twat wearing sunglasses indoors. So if you ask me, it's best to make the most of it!
4. Matching outfits ain't so bad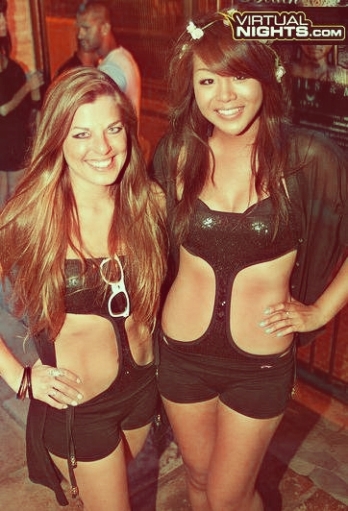 In most cases, this would be a total nightmare. But in Ibiza, a little uniform style between friends is tres respected. This is a swimwear-turn-clubwear example which I love!
5. Beach dresses all the way!
Here, we're all looking a little more covered up for Tiesto and Swedish House Mafia at the amazing Ushuaia Pool Party – it's nice to have understated days as well as wild outfit days when you're over there! Short beach dresses make really great night time outfits.
What Not to Wear in Ibiza
Here are a few things that will help you get the right look for your Ibiza wardrobe…..just remember these tips if you don't want to die of heat stroke or get mistaken for an escort! 😉
1. No heels – don't pack a single pair as you won't need them! Flats and funky sandals only.
2. Don't turn up practically naked – ok, flashing a bit of flesh is fine but that doesn't mean you can just turn up in a bikini or your underwear.
3. Ditch the long dress – maxi dresses are fine for early evening drinks at Cafe Del Mar but don't even think about wearing anything so impractical to a club.
4. Clutch bags are stupid – please don't turn up with a clutch bag unless you're going to a posh restaurant. You will look ridiculous. Make sure you pack a selection of across-the-body bags and shoulder bags.  Festival chic is in, glam Londoner is out.
5. Bodycon is trashy – bodycon dresses or anything else that tight is great if you're sipping cocktails in your hometown. But bodycon style dresses look terribly tacky in Ibiza. Think loose, think floaty, think beachy, think comfortable.
I hope you've found this guide on what to wear in Ibiza useful. The party island is waiting so get packing and let me know if you need any more advice!
Have a fab trip to my favourite party island in the world!


Related Posts :