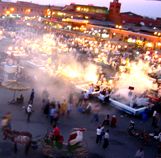 What to do in Marrakech ( guest post by Jess)
For travellers looking for a rich cultural experience, Marrakech is just one of those rare holiday destinations that will transport you to another world. The spicy aromas of the souks, the hustle and bustle of the labyrinthine streets, and its colourful architectural delights promise to captivate all of your senses.
Marrakech Holidays ensure visitors will never be short of things to do and see. Here is a compilation of some of the top sights, and ideas on what to do in Marrakech. 
Not sure what to do in Marrakech? Here are just a few things to make your experience truly unforgettable. 
1. Souks of Marrakech
No holiday to Marrakech would be complete without a visit to the wondrous souks. Morocco's largest souk, the 'Marrakech Souk' is a definite must-see. Comprised of a myriad of narrow and busy streets, visitors will undoubtedly lose their way as they wind their way past all of the stalls. Embrace it! Allow yourself to get lost amongst all the spices, jewellery, and fabrics, and see what treasures you can find. It's a great opportunity to practice your bartering skills, and track down that perfect souvenir or gifts for loved ones back home. And if you are in need of a pit-stop, drop in at one of the many cafes and sip on a refreshing mint-tea. Don't forget to arrive with an empty or extra suitcase!
2. Hammams and Spas
After all the shopping and sight-seeing, take a well-deserved break. Hammams are traditional spas where people escape to relax, cleanse themselves, and even socialise! They are a little similar to Turkish Baths, but instead of being heated by steam, they are heated by hot water and heated floors. Here, you can expect to be massaged, cleansed and exfoliated thoroughly, with natural and aromatic Moroccan soaps and salts.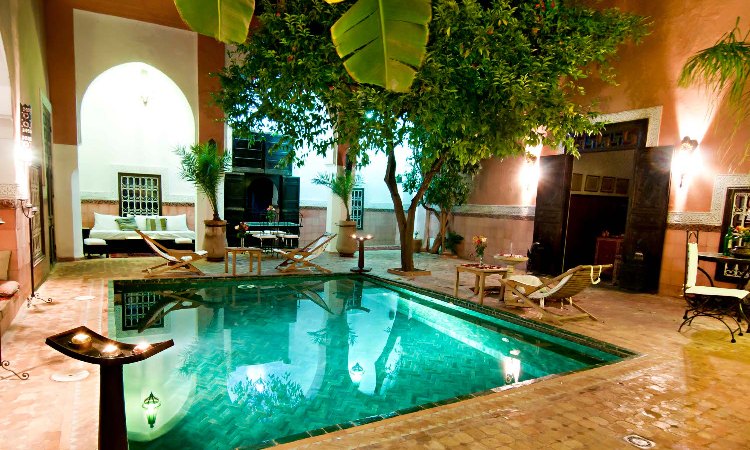 Although bath-time with a stranger may be a little awkward at first, you will emerge feeling extremely clean, relaxed and rejuvenated. The experience is well worth it, and with Hammams scattered around the city, you are bound to stumble across one on a holiday to Marrakech. So if you're not sure what's going to take your fancy in this colourful city or you are totally baffled as to what to do in Marrakech, this is definitely worth half a day of your time. 
3. Jemma El Fna by Day
Jemma El Fna is the heartbeat of Marrakech, and it will send your senses scattering. During the day, it comes alive with activity and sound. For a couple of dirhams, snake-charmers will encourage their serpents to dance for you, fortune-tellers will give you enlighten your future, and herbalists will sell you a cure for anything and everything. Daring acrobats and magicians will have you in awe and story-tellers will capture your imagination. Or enjoy the rhythmic beats of a musician; the options are endless.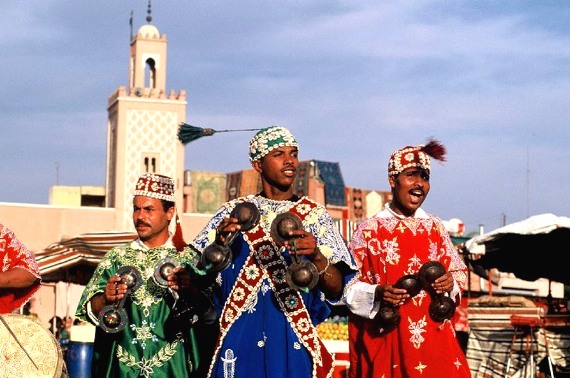 There are also many food stalls around, where you will find plenty of traditional delicacies to sample. For those keen to see some traditional Moroccan architecture, the impressive Koutoubia Mosque is also just west of the square. Jemma El Fna is a great photo opportunity so make sure to bring your camera.
4. Jemma El Fna by Night
You may be wondering what to do in Marrakech at night; so much of the city's activities take place in the dat.  But Marrakech culture includes a lot of socialising when the sun goes down.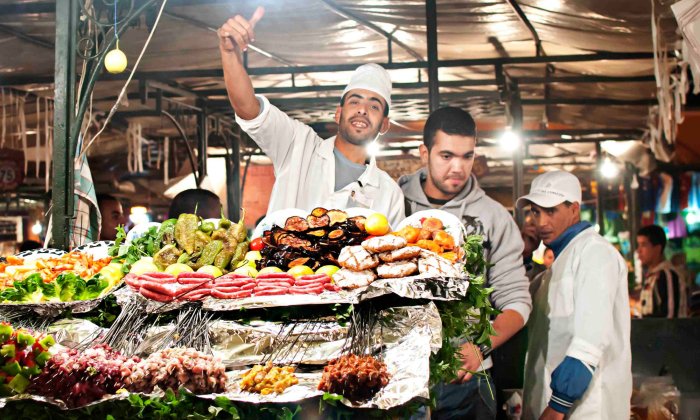 Jemma El Fna by night is just as lively, and is also the perfect setting for dinner. Visitors will be met by smiling waiters of stall looking to entice them into their open air restaurants. Rows of tables will have been set up and delicious smells will have begun to fill the air. Join the crowds at roadside level, or head up to a terraced restaurant to enjoy the bustle from afar. Hungry holiday-makers will be able to sample a traditional Moroccan meal, which is typically made of a tasty tagine, herb-flavoured couscous, and a fruity dessert. Down below, the musicians and magicians are still hard at work, so you will be kept well entertained throughout all three courses!
5. Majorelle Gardens
Created by a French artist Jacque Majorelle during the 1920s, and later restored by Yves Saint Laurent, the Majorelle Gardens provide a visual treat for nature and bird-lovers. These botanical gardens are lovely when in full bloom, and also provide an escape for those looking to enjoy a peaceful break. Look out for the famous cobalt-blue touches throughout the garden.
With so much to see and do in Marrakech, all framed within such a vibrant and culturally rich setting, holiday-seekers will be spoiled for choice!
Hope this answers your question on what to do in Marrakech, and don't forget to check out The Smart Girl's Guide to Haggling in Marrakech before you travel. 😉
Author Bio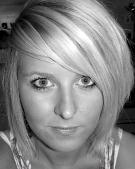 Jess Whitworth is a travel enthusiast who has recently returned from an exhilarating round-the-world trip.
She is a keen blogger, and is passionate about documenting her worldly trips through writing and storytelling photography.