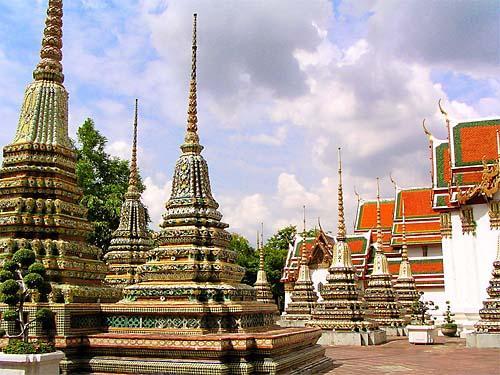 There are so many temples (known as wats) in Bangkok, so which wats should you visit? Unless you're living out in Thailand, temple trekking during a stopover or a holiday will probably leave you a little tired, and dare I say it, bored. Once you've seen a few temples, they do all begin to look a bit 'samey' so I would recommend making a 'must see' list.
The wats in Bangkok are considered to be sacred places, occupied by today's modern day monks. These monks can be seen walking around in their saffron coloured robes and although you are allowed to take pictures of them, always ask first if you are in close enough proximity to them. Thai monks take a vow for life to never touch a woman – so ladies, remember to keep your distance!
Buddhist Monks and Female Travellers
Monks are very true to their vows and it takes a great deal of self discipline – which is why they can not sit next to, or physically touch a woman. Some monks are very happy to speak to tourists but it isn't considered pure to speak to a woman without a man's presence. You should also dress appropriately around monks – you will not be given entry into a temple if you haven't covered up.
No mini skirts or shorts – keep your legs covered
No vest tops or boob tubes – keep arms and shoulders covered
No low-cut tops – this is absolutely not acceptable in sacred temples
Most wats in Bangkok have clothing vendors outside the entrance, but if you want to avoid high tourist prices and last-minute clothing buys, make sure you are prepared before you travel.
In the extreme heat, my best option was a light and airy tunic top which covered my arms and a long, floaty wrapover skirt. Teamed with my bright pink Crocs, I looked bloody ridiculous but my feet were in Comfort Town and the floaty skirt was much better than a pair of clingy, sweaty trousers.
Planning Your Visit to The Wats in Bangkok
The best time to visit a temple is early in the morning. Monks are up at 4am every single day so in the wat world, days start early and they end early too. With a morning visit, you'll benefit from a slightly cooler temperature (before the scorching afternoon heat arrives) and you will also avoid the tourist crowds.
You will have signposted guidance when you arrive at the wats but here are a few general guidelines to help you out:
Don't climb on anything – these places are sacred and climbing around on the architecture could get you in serious trouble, maybe even arrested.
No bare feet – enclosed shoes are the best as it covers your feet. Avoid flip flops and sandals if you can.
Remove shoes before entering a Bot – a Bot is usually the central worship hall of a temple. Don't worry, these will be clearly signposted and you will see the shoe racks outside.
Don't 'foot' the Buddha – sit with your feet away from the Buddha when inside a Bot. Never point your feet towards the Buddha as this is highly offensive.
Strict camera rules – don't get too snap happy. Some areas do not allow photography so always keep an eye out for informational signs.
Which Wats to Visit Then?
Ok, so there are looooaaaaads of wats in Bangkok. I visited three of the main ones and I think that three is just enough for one holiday; if you haven't got long then pick one or two that appeal to you.
Here are the three most recommended wats in Bangkok and my thoughts on each…..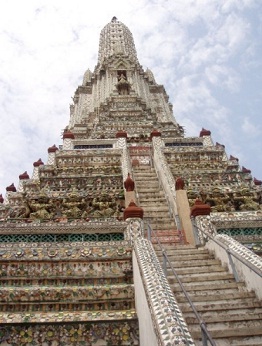 Wat Arun
Known as the Temple of Dawn, this temple is recognised as one of Thailand's most popular landmarks.
Most Bangkok city tours will stop here and it is definitely a tourist hotspot, with a steep and tall prang (spire) to mount; at the very top, you will get a stunning view of the entire temple grounds below.
Visit this place in the day but try and return to look at it from the outside at twilight. Travel by riverboat late in the evening and you will see Wat Arun beautifully lit up along the west coast of the Choa Phraya.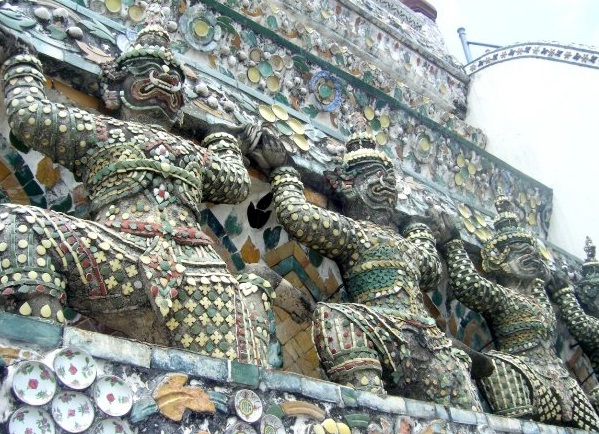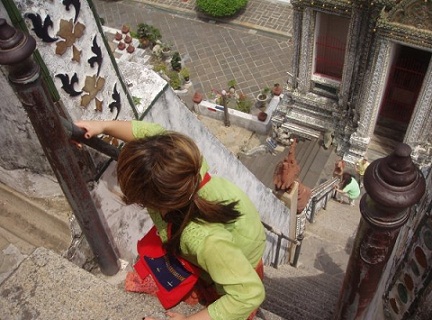 Wat Pho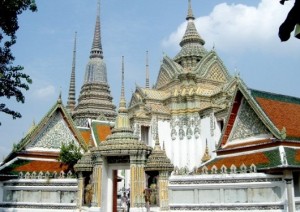 Wat Pho is famous for The Reclining Buddha which measures 46 metres in length.
Every inch of the Buddha has been decorated to perfection with gold leaf, and even the Buddha's feet, which are 3 metres long, are adorned with mother-of-pearl. Wat Pho is the largest and oldest temple in Bangkok.
More pictures of Wat Pho…..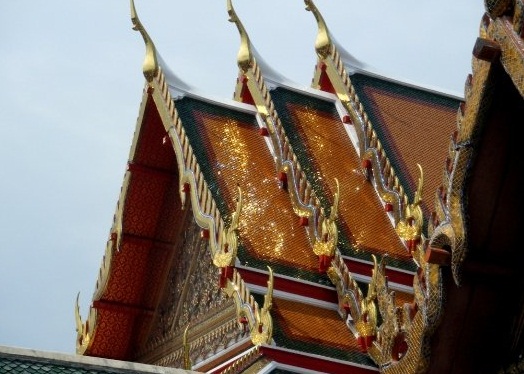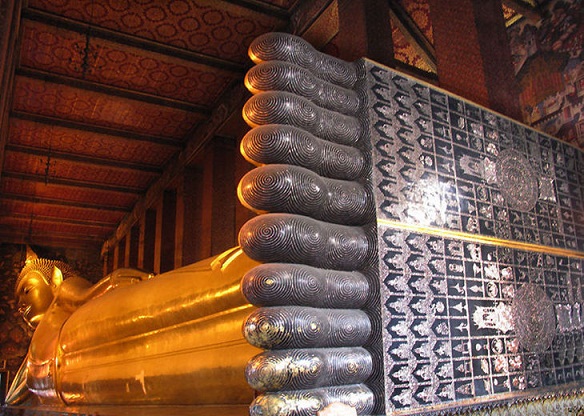 Wat Phra Kaew
This is the most important Buddhist temple in Thailand and it's also the strictest. Those dress code guidelines at the top of this post should be applied 100% when visiting Wat Phra Kaew. In the grounds of the Grand Palace, Wat Phra Kaew is home to the famous Emerald Buddha, carved from one single jade stone.
Absolutely no-one is allowed to touch the Buddha statue apart from the Thai King he asserts his role by changing the statue's cloak three times a year.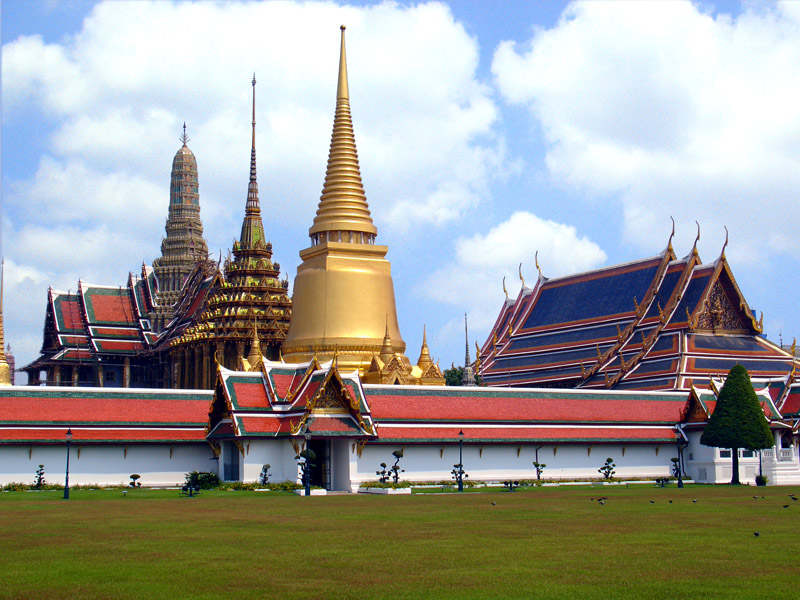 I hope my Bangkok wats and temples guide has been useful. If you have any questions, please do not hesitate to get in touch! I'm on Twitter and Facebook and would love to hear about your experiences in Thailand.
Visit the rest of my blog: The Smart Girl's Travel Guide
Related Posts :