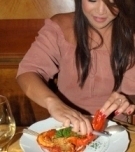 Rated 4.5 ★star by TheSmartGirlsTravelGuide.com
Giorgio told me, "In Venice, there is good food and there is bad food".  As though from knowing the city from the back of his hand, he named a few worthy places where you could find real, indulgent, good quality Venetian food.  As the Hotel Concordia manager, he brought a sense of warmth and trust, and his passion for the business filtered through to all the staff members, including the waiters who looked after us at La Piazzetta. 
La Piazzetta at Hotel Concordia is truly a pot of gold at the end of a rainbow, hidden away from all of those who don't have insider knowledge on the best places to dine in Venice.  La Piazzetta doesn't feature in the Lonely Planet – I should know – I read the edition back to front, and my only question is, "why not?"
Did no-one tell Lonely Planet writer, Alison Bing about Concordia? I hope she reads this review and decides to sample the delicious delights at this San Marco jewel. 
Fine Venetian Food, Served by Food Lovers
4.5

 ★star rating
Price: Venice isn't cheap but it's worth saving for
Location: the only hotel restaurant overlooking St. Mark's Square
Service: the best in Venice!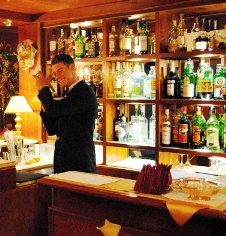 It's always nice to taste inspiring food by people who are inspired.  Our waiter seemed to know the intricate designs behind each and every dish, and the passion for his work shone through in his eagerness to enlighten us on all the ingredients and flavours.
I was lucky enough to come across this little treasure of a 17th century Venetian guest house and its stunning restaurant overlooking Saint Mark's Square.  Dining in the window seat of La Piazzetta, I felt alive with the view of the Basilica and comforted by the friendly atmosphere.  Not everyone in Venice offers a smile so frank, or perhaps that's the hospitality industry as whole, but here, I was truly looked after.
I smiled as I watched the waiters laugh and joke with other diners; I couldn't have been alone in my thoughts.
Moving Venetian Food in Saint Mark's Square
Giorgio wasn't lying when he told us about good Venetian food and bad Venetian food.  During our time in Venice, there didn't seem to be much of a middle ground in terms of dining.  Here at La Piazzetta, tucked away in the only hotel overlooking Saint Mark's Square, every course stirred the senses; this was good Venetian food.
I pampered my palate with a seafood taster menu whilst enjoying the sights of the Basilica, and it was every bit the extravagance I had hoped for.  The menu was full of the Venetian sea's finest, starting with a seafood platter of lobster, squid, mussels and a delicate 'Sarde in Saor' (Venetian style sardines with strands of saffron).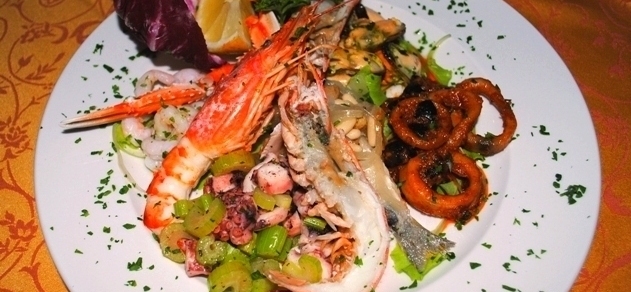 My all time favourite squid was presented on a dish called 'Black and White', fusing together the bright-white of cod against the jet-black of squid ink sauce.  This was followed by a rich lobster pasta, which sumptuously swathed my senses in tune with a glass of light, fruity Borgo Boschetto Pinot Bianco.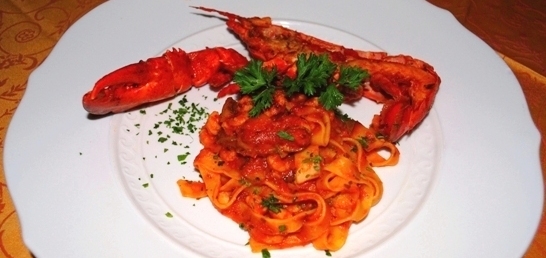 After a palate cleansing Lemon Sorbetto cocktail, which our waiter divulged as a delicious concoction of lemon icecream, Italian champagne and a splash of vodka, the main course of seabass and tropical fruit sauce was presented beautifully in front of me.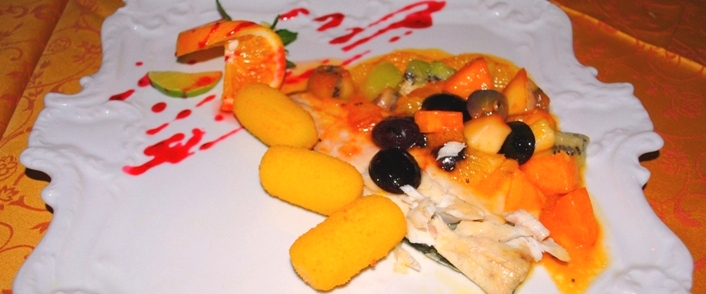 The refreshing chunks of melon, grape and kiwi broke up the richness of the other dishes and despite being full to the brim, I devoured every flake of the fish.  It was perfectly decadent.
Venetian Food for Fish and Meat Lovers 
To me, visiting Venice without seafood is simply sacrilege.  But for die-hard carnivores, there's also a great taster menu with cured hams, Carpaccio, veal and more.  To get the full experience of Venetian food, I would definitely recommend these spectacular tasting menus, but set a few hours aside to enjoy – they are heavy with luxury, so book early, sit back, and savour each and every mouthful. 
I walked out of La Piazzetta, with a pang of regret that I didn't ask to shake the hand of the culinary artist behind the menu.   I guess that's the feeling you get when you know that you've tasted outstanding Venetian food.
Hats off to the chef, and my deepest apologies for not thanking you in person.
Review by The Smart Girl's Travel Guide
(More about Hotel Concordia here)
Related Posts :