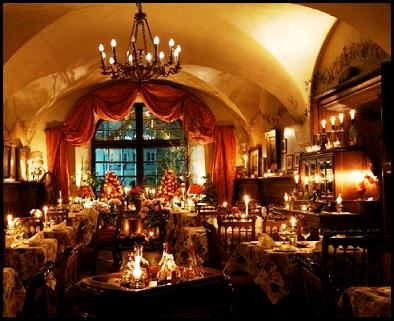 There are so many fabulous places to dine in the world, but I think I've found one that's utterly unique.
U Fukier Restaurant in Warsaw is a recommended establishment in the 2010 Michelin Guide. I of course, being the foodie genius that I am, discovered it before this publication even came out (applause welcome) and now I would like to add my own 4.5 star recommendation.
U Fukier Restaurant in Warsaw Review
4.5 ★ star rating
Price: excellent value for money
Location: in the heart of a lively town square
Service: good
This hidden gem can be found in the Old Town Square in Poland's interesting capital, Warsaw.  Not only has the Michelin Guide followed my tracks, but so have many famous food lovers including George Bush, Queen Sofia of Spain and Noami Campbell.
Dining at U Fukier is like visiting the illustrated pages of a storybook; it's quite possibly one of the most stunning restaurants I've ever visited in my life.
Forget all the expensive restaurants you've ever been to.  Forget the over commercialised TV chefs and their fancy establishments. And most certainly forget those pretentious UFO sized plates serving tiny little portions of food just large enough for a dwarf.  At Warsaw's inexpensively charming U Fukier, you can dine like kings and queens for no more than £50-£60 for a meal for two.
I enjoyed a hearty yet elegant first and second course of Steak Tartare and beautifully pink salmon, but I didn't really know what I was in for until the Soup of Nothing arrived on my table.
Soup of Nothing
The strangely named Soup of Nothing dessert was one big lie. It tricked me into thinking that it was nothing.  But the deceiving dessert was in fact, everything.
I'm not sure what floats your boat when it comes to puds, but this was seriously everything I could ever have dreamed of, all in one bowl.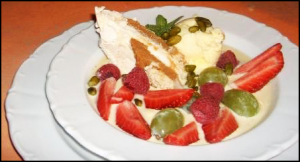 Large juicy strawberries, fresh raspberries, and the plumpest grapes you've ever seen, a rebellious chunk of perfectly baked Meringue with a beautiful soft centre, a dollop of thick, homemade clotted cream icecream, a sprinkle of pistachio nuts, all scattered on a sea of thick Amaretto cream soup.
I am not usually a fan of liquor desserts, but trust me when I tell you that this is by far the most indulgent, wicked and mouth-watering dessert you will ever, ever lay your taste buds on.
U Fukier Restaurant review by TheSmartGirlsTravelGuide.com
Related Posts :