People thinking of taking up RVing or camping might consider purchasing a motorhome. Those who wish to vacation or camp in style may consider getting a class B motorhome. It's a much more affordable, practical form of RV and serves to take you to your vacation destination in as much comfort as possible. The following is a look at what at Class B motorhomes and some of the many benefits and amenities you can expect if you decide to roll with one on your next vacation.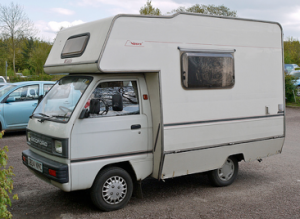 What are Class B Motorhomes?
A motorhome with a Class B status is a small van, luxury van, or "conversion van" that has been designed to include extra amenities that enhance the camping or RV experience. They are designed to simulate your home life on the road without sacrificing comfort for mobility. These amenities can be used to provide sleeping quarters, an area to cook, or even a place to provide entertainment for guests.
Some luxury amenities that you might find in this type of motorhome include:
Small kitchenettes
Multiple beds
Extra shelf space
Bathrooms
Entertainment centers that include TVs, video games, and more
What Are the Sleeping Quarters Like?
While other styles of motorhomes have large, luxury master bedrooms, most Class B motorhomes have small, narrow sleeping quarters that can accommodate up to four people. Efficiently designed quarters are to maximize the amount of space inside your motorhome. Beds can be made out of a number of amenities in the motorhome. Tables can be transformed into beds or a couch can be pulled out to make a bed.
The Gas Saving Feature of a Class B Motorhome
The smaller size of this type of motorhome makes it a great gas saving vehicle. Most Class B motorhomes have great gas mileage conversion and allow people to save on gas without having to compromise luxury or comfort.
The Ability to Park the Motorhome in Any Garage
One of the biggest drawbacks of using a motorhome for RVing or camping is the need to find parking spaces and garages that accommodate the large vehicle. The small size of a Class B motorhome allows you to park these vehicles in regular garages and parking spaces.
There is no need to have to go in search of extra-large parking spots in parking lots. There is also no need to build a new garage onto a house to accommodate the motorhome. Just pull it into your regular garage.
The Class B motorhome is a great choice for young families and couples or people who are just starting out with RV vacations. In addition, the numerous amenities and small size make it a great way to travel in style while also having fun on vacation.
Related Posts :