Haven't got long in New York?  Need help with your itinerary? (And don't pretend you don't make one).
I've put together a list of my top 10 things to do in New York to help you out.  I promise you will have a good time – and if you don't, you can hunt me down and we'll settle it with an arm wrestle.
1. The Empire State Building
This is a must see New York attraction, ya-da ya-da.  But it's true!  If you're a movie lover then this will bring back all the childhood memories of watching Sleepless in Seattle, King Kong or An Affair to Remember.  The 86th floor observation deck is breathtaking.
My tip: Do this in the day and get some good photographs of the New York skyline, then follow up with a night time rise up the Rockefeller Center.
2. Times Square
Times Square is a commercialised billboard city.  You cant miss this. It's like walking around in one giant advert about everything and anything worth selling.  All the biggest brand names are present and the bustling crowds are daunting yet exciting. And big kids – don't forget to pop into Toys R Us.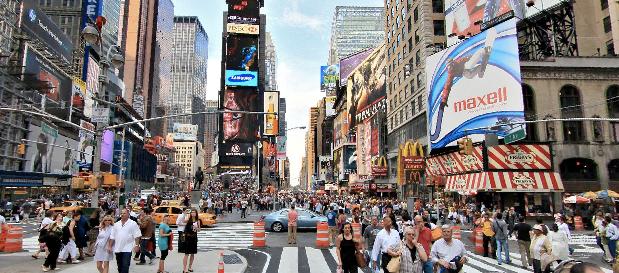 3. Central Park
This beautiful park is vast and it deserves a whole day to be fully explored.  Joggers, dog walkers, roller skaters and cyclists will whizz past you in the summer and ice skating rinks will be jam-packed with people of all ages in the winter.
4. Rockefeller Center
So you've done the tallest building in New York, The Empire State Building.  Go up the Rockefeller (at night) and get a view of The Empire State Building against the stunning city skyline.  The night view is magnificent and there are usually night photographers around who can take a very decent night photograph of you and your travelling buddies.  They do have a habit of dictating your poses though which can feel a bit contrived, but I guess we should just trust the professionals?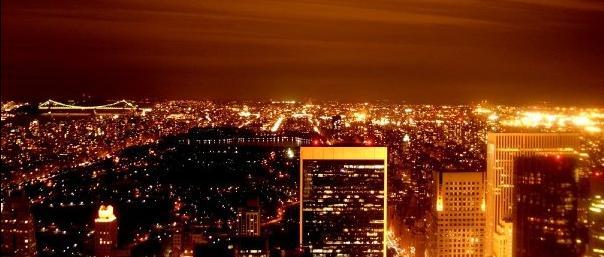 5. Harlem
If you want real food, go to Harlem.  Like a lot of food in America (sorry guys!), you'll get a lot of stodge and grease.  A few things I tried in New York made me feel like I was chomping into cardboard, so Harlem was a nice surprise.  Miss Mamie's Sweetbread Too is a highly recommended little place serving homemade BBQ chicken, meatloaf, cornbread and other soul food.
6. Soho (and Greenwich Village)
So this is where all the cool people are.  This Manhattan neighbourhood is home to an active art scene and the people in Soho are all a little bit boho (I didn't do that on purpose).  Eat here, drink here, dance here.  Go North a smidge to Greenwich Village to continue your bar crawl and find a candlelit lounge to hang your hat for the night.
7. Coney Island
Don't pretend you don't want candyfloss, ice cream and fairground rides.  Totally tacky, but Coney island tacky cancels = perfectly dignified.  To get there, it takes about an hour by bus from midtown Manhattan.
Tip: try the corndogs to feel like you're in a movie, but be warned – they are bloody awful!
8. American Museum of Natural History
Yes, very geeky, but it's a must-see if you ask me. Learn about human evolution and see the famous 94 foot long blue whale in The Hall of Ocean Life.
9. The Statue of Liberty
There are so many great ways to see experience The Statue of Liberty; get a guided headset tour with crown access, get a helicopter tour and see this symbol of freedom from great heights, or book a ferry trip to get a great view.  Tickets for tours are usually very reasonably priced and you will probably find some online savings if you plan ahead.
Tips: book ahead, bring snacks, travel light and be prepared for crowds and queuing!
10. Time Warner Center
The shops at Columbus Circle, Time Warner Center, are every girl's dream.  But it's not just the shops that are totally luxurious – the restaurants and bars are high end too. This is where America's food establishments see a vast improvement.  Get award winning sushi by esteemed chef, Masayoshi Takayama or pop into one of the most expensive eateries in the city, Thomas Keller's Per Se.  Time Warner Center is at the bottom of my 'top 10' list because if you're coming here, you better be prepared to re-mortgage.  But you'll love it, I promise.
Tip: save up!
Related Posts :