Kenya is on the top of many lists of places that people want to visit, it is one of the most popular tourist destinations in the whole of Africa. People take a lot of time to plan their holiday of a lifetime and with good reason, if you want an expert to guide you through the booking process then check Kenya holidays with Thomas Cook. They will be able to talk you through everything on offer and plan your trip according to your needs. The sun will always be shining when you go to Kenya so you will get your much needed dose of Vitamain D. Here are some top tips to help you with your Kenya holiday.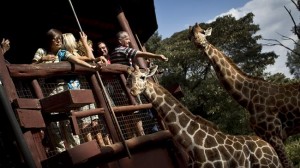 Camp where you can
If you've been on camping trips before then you will love camping out in the wilderness, if for some strange reason you have never spent the night in a tent then throw yourself into it and go camping in Kenya. The places where you will witch your tent will have facilities such as toilets, showers and food to buy.
Budget accommodation
If you are travelling on a budge then you should look in to the Kenya Wildlife Service bandas that are in national game parks. They offer great value accommodation for those that are looking to save extra pennies. The accommodation is kept clean and in order, the fact that they are located in some of the countries most famous national parks means that they re great value for money. Due to the fact that it's budget accommodation you will have to bring your own food, that isn't an issue because it is easy to heat up some food or eat sandwiches.
Book early
Remember that you will not be the only person looking to go on holiday to Kenya, both expats and tourists will be hitting the main tourist destinations so it is best to book your accommodation early to avoid disappointment. During peak times the accommodation and tours can fill up quite quickly, so don't hesitate and take too long because your ideal trip might get booked by someone else.
Do your homework
If this is going to be a holiday of a lifetime then make sure read as much as possible whether it be in books or online. You need to find out as  much as possible about the places you are going to visit and the route that you want to take. By doing your research, talking to friends and trawling through forums you will certainly find some hidden gems that you would otherwise have missed.
Related Posts :