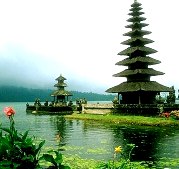 Dubbed the Island of the Gods, Bali is a mystical city dotted with enchanting temples, palm-lined beaches, fragrant frangipani trees, majestic volcanoes and steep rice terraces. This tropical paradise is one of Indonesia's most popular islands, with year-round subtropical weather and endless miles of sprawling beaches.
As you might imagine, there's an abundance of outdoor activities you can work your way though such as diving, snorkeling, surfing and swimming. If these are your kind of activities, start by making reservations to an affordable hotel with Expedia. It's all about the sun and water here folks!
Beaches, Beaches, Beaches!
Kuta Beach is Bali's most popular beach lined with bars, night clubs, restaurants and hotels, and a fast-paced hub for partygoers. Cocktails aside, Kuta Beach is also a popular destination for those seeking to catch some of Bali's best surf, and of course, bask in the sun.
For those craving a more serene atmosphere, Lovina Beach, Padang Padang Beach and Dreamland Beach are all great spots to park yourself for a few hours! Not only is Lovina Beach a top place for snorkelling and diving, but it's also the ideal beach to grab your binoculars and do a do some dolphin spotting.
If you're the romantic type, Dreamland Beach is the perfect spot to catch a sunset with your significant other, and a great place to chill with a beer as you look out on the picturesque surroundings including some impressive and dramatic limestone cliffs.
If you're seeking to experience the rich biodiversity of the turquoise waters, Bali will not disappoint. The Blue Lagoon is one of the best spots to snorkel, as the waters are extremely calm and sport a great vista of moray eels, cow fish, cuttle fish and angel fish along the colourful reefs. Similarly, Tulmban offers a distinctive snorkelling experience, and is the site of the United States Army Transport Liberty shipwreck. If you plan on exploring the shipwreck, just be sure to keep a watch for the scorpion fish, lion fish and blue spotted stingrays!
Getting Out and About

Even though Bali sports some of the world's most gorgeous beaches, there's a lot more to Bali than sun, surf and sand. Bali is an island of historical landmarks, monuments, temples and monasteries dotted across the island – landmarks that pay tribute the island's rich Indonesian history.
The Mother Temple of Besakih is one of the island's most impressive temple complexes. Nestled to the north of Klungklung, the complex features dozens of temples with statues of Hindu goddesses and gods. The surrounding landscaping is spectacular with majestic mountains, and the Goa Gajah in Ubud is an ancient landmark. Located over the Petanu River, this 1,000-year-old cave has a carving of a demon with elephant-like ears, which visitors are free to explore while taking in the numerous Hindu idols of Ganesha and phallic symbols.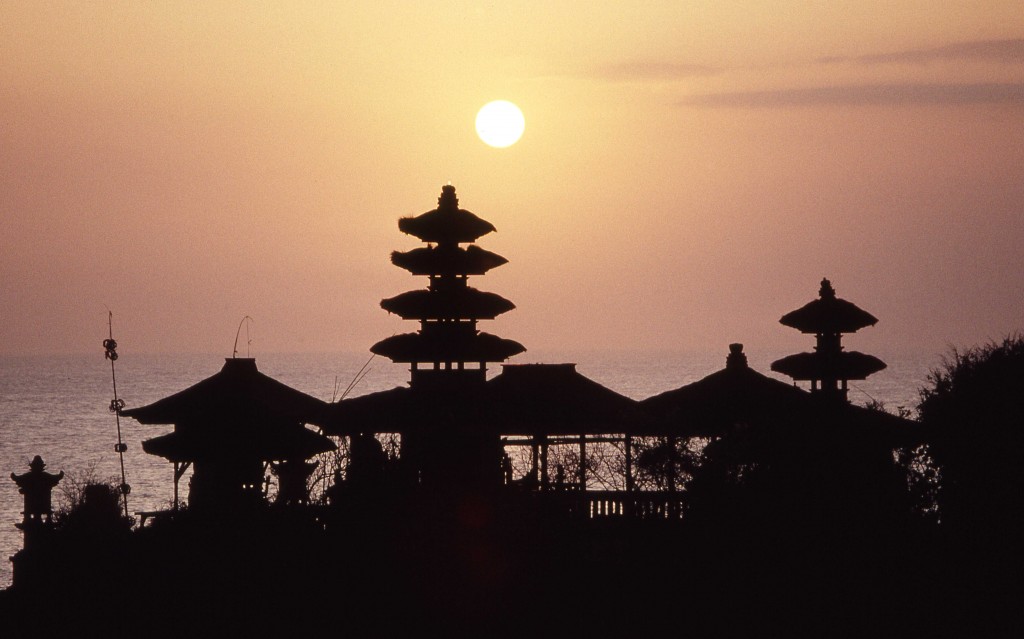 The temple sanctuary at Tanah Lot is perched on a huge rock and is one of Bali's most important sea temples. Constructed by priests from Java in the 16th century, there are daily rituals paying tribute to the guardian spirits of the sea. It's believed that the poisonous snakes on this rocky island protect the temple from demons and intruders. If you want to make the most out of the impressive sights, the best time to view Tanah Lot is in the afternoon when its silhouette is completely in sight.
Gunung Batur in Kintamani is an impressive volcano, and one of Bali's largest natural landmarks that if you know your history, erupted and nearly destroyed the entire village leaving only Lucky Temple standing. You can also find ancient temples and the Trunyan cemetery nearby, so definitely worth looking into.
There are an abundance of tours that can help you take in the Bali's amazing scenery and popular attractions, such as Bedugul tours, who travel through the forests inhabited by wild monkeys in Sangeh, and mountains surrounding the water temple, Ulun Danu, for an scenic ride not to be missed. Along the way you'll find spice markets, rice fields and artisan villages. Similarly, you'll find north Bali tour drives that can take you through the mountains with great vistas, rice terraces and large plantations growing cloves, coffee and vanilla. There are plenty of opportunities to stop along the way and pull out your camera for sights such as the black beach in Lovina, and a the multi-tiered waterfall at Git Git.
If Bali sounds like just the antidote to the daily grind you're seeking, there are many cheap flights available to take you to this enchanting island.