Newcastle is a great place for a romantic trip away – after all, there's no better way to spend some quality time together than breaking with your normal routine. City breaks, which offer bags of culture and plenty of options when it comes to what to do, are usually the best choice and Newcastle is, I think, absolutely ideal.
This vibrant city in the north-east has a great mix of historical and modern buildings, not to mention swish bars and restaurants and some glorious green spaces. Plus, there are plenty of hotels for all budgets (you can take a look here), which means you can find something that suits both your tastes and wallet.
Enjoy a tranquil walk or bike ride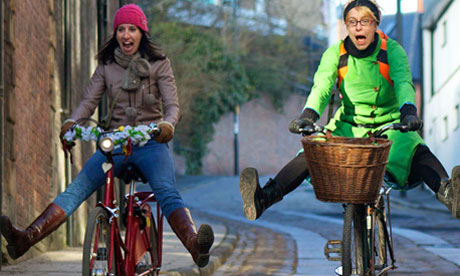 Newcastle's a great place for walking and cycling, both of which are ideal for a romantic afternoon out – just make sure you wrap up warm! While you could just meander around the city centre (there's certainly lots to see, like the historic Castle Keep), you'll find there's a brilliant selection of walking and cycling trails in the surrounding area.
For instance, if the day is bright and sunny (and not too windy) you could follow the Marden Circular Walk – a 7 mile route that'll lead you along the beautiful cliffs at South Tyneside. Or, if you like the sound of something much closer to the city centre, you could amble through Jesmond Dene – a green oasis just minutes from the hustle and bustle.
Alternatively, hire bikes at the Cycle Hub and tackle the NewcastleGateshead Wylam Loop which, while being 20 miles long, is quite gentle because it's almost completely flat. Plus, it has the advantage of giving you a mix of city and countryside views.
Dine out in style
There are some absolutely fabulous restaurants to choose from in Newcastle. Perfect for a romantic meal is Cafe 21 at Trinity Gardens on the Quayside. What's nice about this restaurant is that the attention to the food really comes across – the bistro-style dishes here are delicious and created with care, without being pretentious.
This is echoed in the decor, I think, which is really elegant, yet creates a relaxed atmosphere. The menu is always tempting – especially the desserts, which include plum crumble souffle, Tanzanian chocolate mousse and creme brulee.
Alternatively, head to the Marco Pierre White Steakhouse, Bar & Grill, which is tucked away in Hotel Indigo. Expect outstanding food, fine wines, and an endlessly tempting selection of cocktails.
Take a stroll along the Quayside
With its cluster of restaurants, bars and cafes and river views, the Quayside is one of the finest places for an idyllic evening stroll. I think it's best to see this part of the city when the sun goes down, because that's when the spectacular Gateshead Millennium Bridge is beautifully lit up against the dark water and sky – such a romantic setting.
And of course, because there are so many excellent restaurants and bars here, it's a great place to spend the entire evening.
Related Posts :