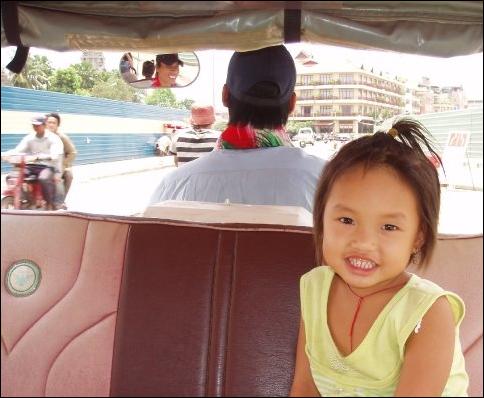 Travelling around by tuk tuk can be daunting when you first arrive in Cambodia.  Tuk tuk drivers may seem persistent and the pricing structure may feel like it's just been made up on the spot.  Most tuk tuk drivers will start high – that's when the bargaining begins!
The general custom is that once you have selected your tuk tuk driver, he will be at your service until the end of your stay in that particular area.  Whether you need him all day or all week, a good driver will arrange to pick you up the next day and will take you everywhere you need to go.  These deals are beneficial to the driver as he has guaranteed business for a certain period of time and it also means that you have a dedicated guide who you can (hopefully) trust.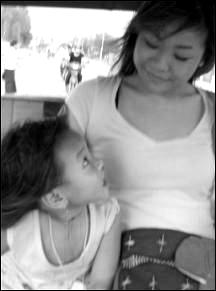 In my case, the little girl in the tuk tuk wearing a little green dress, created an instant feeling of trust in my chosen tuk tuk man.  Plus, his huge beaming grin made me warm to him immediately. 
Mei (pronounced Meh-ee) spent the entire day with her father, who spoke very little English, inside the jangling little vehicle.  When waiting for passengers, he would squat on the pavement playing cards with his other taxi friends and Mei would talk to everyone as though they were all family.  The whole tuk tuk culture was endearing to watch. 
Phnom Penh in a Day
If you don't have very long in Cambodia's capital, there are a few key sites that you can nip around in a day – just make sure you find a good tuk tuk driver who knows where he's going.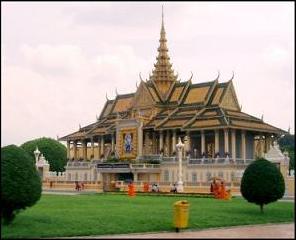 In one day, we stopped at The Grand Palace, The Phsar Thmei Market, Wat Phnom, and The Choeung Ek Genocidal Center (The Killing Fields).  If there's one place you have to go, it's The Killing Fields but it's definitely not for the faint-hearted. 
Driving around Phnom Penh was much easier having done thorough research before arriving in Cambodia and Mei's dad got us back in time for a nap and a shower before evening dinner.   So if you're making a backpacking pitstop in the city, grab yourself a designated tuk tuk!  Cambodian drivers will take one look at tourists and try to charge extortionate prices – just remember you can barter.  But if you can afford it (ie: if you're not a skint backpacking student) please leave a generous bonus at the end of your stay. 
Mei's Mobile Phone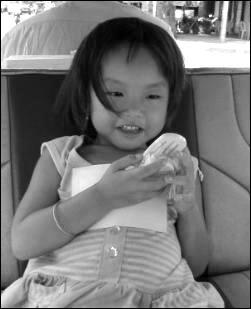 It was the end of the road for Mei and me.  I was sort of sad to leave her.  A generous tip was my way of saying thank you to her dad (I was hoping he wouldn't gamble it all away on cards) and my little gift to Mei was a toy mobile phone which I picked up at the Phsar Thmei Market.
What really made me smile was when I saw Mei from my hotel room balcony showing her new mobile phone to a local policeman.  That was a while a go so maybe she's grown out of fake-dialling her imaginary friends.  I hope she's passed it on to a little sister or brother by now.
Related Posts :