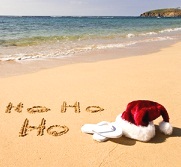 Meet my favourite writers…
We writers are creative creatures; notoriously hard to please and somewhat illogical when it comes to matters of the heart.  Thought to be dreamers with our crazed thoughts and frenzied feelings, we often leave others wondering whether we should be classified as 'temperamental' – or just 'mental' – but just like everybody else in the working world, we are very easily pleased when it comes to Christmas.
Christmas is probably the only time of year when the office w*nker doesn't grind us down, it's the only time of year when car trouble doesn't give us an aneurism, and it's the only time of year when our infamous confectionary addictions blend cleverly into the Christmas spirit around us, so we thought we'd celebrate with a little snippet each about our perfect Christmas holiday destinations…
Remie Lund

One word to describe Remie: jammy
Remie is the author of Remie's Luxury Blog, one of my favourite blogs about anything lovely and anything luxury!  She likes gigantic hats and can be rather obtuse when it comes to technology or computers (particularly Microsoft Word or Microsoft Paint). 
Her favourite Christmas holiday would be at Lapland, and here's why…
"There is something wonderful about cosying up at home with family and friends around the festive season but I have always wanted to experience it somewhere far, far away from my home town. Lapland is on my holiday wish list and has been ever since I thought Santa lived there when I was little (I still kind of do).  In my head I have always pictured Lapland as a scene from one of those picturesque Christmas cards that shows Huskies pulling sleds and cosy lodges that are just begging you to go inside and curl up with a hot chocolate by the roaring open fire. While I love nothing more than basking in the sun, I am always drawn to snowy ski slopes and luxurious lodges around the winter time.  Snowmobile safaris, snowboarding and a stay in a luxury igloo are just a few of the things that would make it on to my things to do list. Obviously seeing the Northern lights would be a box ticked on the bucket list but I would happily settle for breathtaking views and a trip to Santa's grotto."
Sam JT Butterworth

One word to describe Sam: dilettante (Google it if you're not sure either)
Sam isn't French, but he really ought to be.  His blog, Utter Tosh offers creative ramblings and short stories for the creatively hungry.  Today he wears bright blue trousers and looks like a leggy caretaker; he's cool.  His favourite Christmas holiday destination is the Caribbean, and here's what he has to say:
"My perfect Christmas holiday would be a long stay with family and friends in the Caribbean. We'd have a scattering of villas surrounding a refulgent pool and would be able to sunbathe, swim, drink festive booze in the sun, eat fresh fish and barbecue and avoid the Eastenders Christmas special. Being away from home might seem a little strange but with family and friends all transported there with me (the good ones) and the sun shining down through swaying palms, I'm sure I could cope."
Kira Lauber-Stracey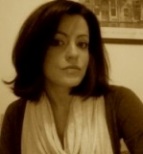 One word to describe Kira: floopy
Kira's mum is apparently of Indian heritage, but the giveaway blue eyes and English Rose skin tone tells us that Kira is either a) telling porkies or b) adopted (gasp!)
Her ultimate Christmas holiday would be a trip to see the Northern Lights (good choice – I just hope she realises that they don't do chicken korma and naan bread out there).
"My perfect Christmas holiday would have to involve seeing the Northern Lights from Canada or Alaska. Just being able to watch ribbons of light dance through a starry sky would be pretty magical. Returning to a cosy log cabin complete with enormous Christmas tree and roaring fire, I would indulge in a hearty Christmas feast with friends and family. Throw in some champagne-infused hot springs and a husky sleigh ride through the snow on Christmas morning – and it's likely that I would never leave."
Mags Yip (me)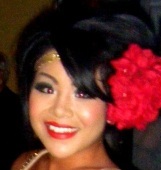 One word to describe Mags: peckish
If you haven't clicked on my About page yet (why not?), let me introduce myself – I'm the author and editor of The Smart Girl's Travel Guide, and I prefer to spend my precious time with other writers like the above.  I prefer them.  Us creatives like to stick together. 
But hey ho, we can't have everything we want can we?  I mean like some days, I actually have to mix with other people (just kidding).
My ideal Christmas holiday would be a ski holiday in Austria and here come the quotation marks (didn't want to feel left out)…
"I've always wanted to travel to Austria, imagining it to be kitsch and quirky on the outside and totally grand on the inside.  A bit like a cultural Dime Bar? I think a luxury chalet with my friends and family, a folk band playing Edelweiss, a giant Christmas tree with hand-knitted decorations, and a ski-off on boxing day would be the perfect way to celebrate."
Follow me on Facebook for more quirky, pointless rubbish