Bahrain has been famous for its radiant pearls over the centuries. Before Japan came up with cheaper cultured pearls, Bahrain was the most eminent location for pearls. It alone supplied over 80% to the world's pearl market. Tourists can explore the region for pearls with a diving program, which is authorized by Professional Association of Diving Instructors (PADI). It is one of the main tourist attractions there. Over 400 square miles of oyster beds flourish in the warm, shallow waters of Bahrain, offering a very unusual diving experience. Eventually, media started calling it the 'Bahrain pearling trail'.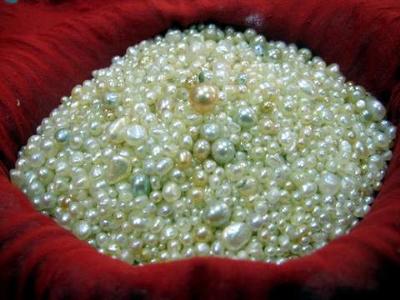 Historically, the first ever mention of pearl diving occurs in Assyrian texts. It dates back to around 2000 BC. At first, divers did not have any technical gear. They used weighted rope to stay near sea beds in the shallow seas. The divers would stay submerged for a minute and collect about 8-12 promising- looking oysters.
The golden age of pearling was between the period of 1850s-1930s. At that time pearls were more precious than diamonds. Pearl diving served as a good employment and contributed most to the national GDP till 1930s. There was a downfall to the pearling trade due to the discovery of oil in Bahrain during 1932 and introduction of cultured pearls by Japan, which were selling at low prices.
The Bahrain pearling trail is a 3.5 km long path, located at the island of Muharraq. Robin Bugeja is the owner of the pearl diving tour company, which gives an amazing tour. Before the tourists head out for actual diving, they are given a small orientation in which they are briefed about the techniques used to finding promising-looking oysters. The orientation session also includes a brief history of the whole activity and how it evolved over the years.
The climate of Bahrain is hot and dry, while summers are mostly humid. The natural hazards are that of periodic droughts and sand storms. The water temperatures are 34 degree Celsius in summers and 20 degree Celsius during winters. Most importantly, the diving season is open all year around. Moreover, Bahrain also offers a variety of wreck dives, including ships, planes, tugs and barges.
Things you need to know:
If anyone finds a pearl whilst diving, its theirs to keep
Bahrain is regarded as a very secure place with a very low crime rate
Visas are required by all except passport holders of AGCC (Arabian Gulf Cooperation Council) States, (i.e. nationals of Kuwait, Oman, Qatar, Saudi Arabia and the United Arab Emirates) and citizens of the UK for a maximum of 4 weeks (providing they hold a passport with at least 6 months validity).
There are numerous money exchangers operational in Bahrain. All you need is the proper identification and once provided, you will be able to exchange currency from any one of the 25 locations of Travelex Exchange stores in Bahrain in cities like Riffa, Manama, Muharraq and even Bahrain International Airport where you will land. It is helpful to note that in exchange for one US dollar, you will receive about 0.95 Bahraini Dinars in return.
Related Posts :