Costa Rica should be at the top of must-visit lists of those of you who are interested in flora and fauna. While the Central American country takes up just 0.03 per cent of the world's surface, it's home to five per cent of the planet's biodiversity. The Monteverde Cloud Forest is a good place to begin your adventure tour around Costa Rica, especially if you want to see flora and fauna.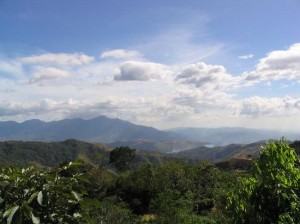 Straddling the Continental Divide, the cloud forest lies at 4,662 ft above sea level, with this high altitude meaning its biodiversity is even more impressive than what a rainforest offers. I think the fact it has around 400 species of bird, 100 types of mammal, 2,500 plant varieties and 30 types of hummingbirds alone speaks for itself, and you're bound to spot an array of creatures when you explore Monteverde Cloud Forest.
One of the most unique ways to get a fantastic view of the flora and fauna is to go on a zip-line canopy tour. It's exactly as it sounds – you'll whizz by the tops of the trees of the cloud forest on a zip wire. This is certainly an activity with a difference and one you're bound to still talk about when you land back at home.
I'd advise you to keep your eyes peeled for the Resplendent Quetzal. If you don't know what one of these is, it's basically a colourful bird that lives in the Monteverde Cloud Forest and is a stunning green, white and red. It's one of the most popular and famous creatures that lives here, so perhaps start a competition with your fellow travellers as to who can spot one first!
If you'd prefer your feet to be firmly on the ground, there are lots of hiking trails you can follow on your quest to soak up the stunning scenery and spot as many animals as possible. The Cloud Forest Trail – also known as Sendero Bosque Nuboso – spans 1.2 miles and, with an elevation of around 213 ft, should take you approximately 1.5 hours to finish. Strangler fig plants can be seen along the way, so make sure you take time to stop and admire them.
Another route that covers a similar distance is the River Trail, and if you choose to follow this you will walk along the Quebrada Cuecha. However, I'd strongly recommend you take a slight detour off the main track along the short side trail that leads you to a stunning waterfall. As well as gazing at the cascading water, you can also see a number of zapote trees.
There are a few things you need to keep in mind when hiking around Monteverde Cloud Forest, but I don't think you'll have any trouble sticking to these rules. You cannot collect any animals or plants you come across – not that these would fare very well in your backpack even if you tried! Smoking is also forbidden, and you mustn't leave the signposted trails. Flash photography is also not allowed, but these regulations are easy to follow and designed with the protection of the fragile biodiversity in mind.
The Sky Walk should also be on your itinerary, especially if you decide against the zip wire. This tour sees you exploring all of Monteverde's suspended bridges, providing you with brilliant views of the canopy. You don't need to be super fit to complete this experience, either, making it suitable for backpackers of various abilities.
Related Posts :