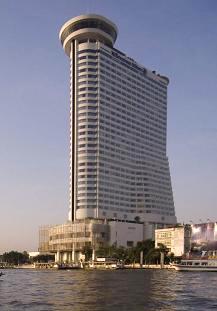 Don't you just hate Hiltons?  They're boring and businessy and the only wild thing about them is Paris (the hotel heiress, not the city).  And that's not exactly a creditable attribute to have.  That's right, I've never been impressed with these multinational hotel chains.  
But I think I've found a Hilton with a difference.  And no, the king size bed wasn't extra big.  The feather pillows weren't extra feathery.  There's absolutely nothing materialistic about this review, because what really made the Millennium Hilton on Charoennakorn Road stand out from the others, was the people.
Bangkok Millennium Hilton Review (Millenium Hilton Bangkok)
4.5 ★star rating
Price: your usual Hilton prices
Location: perfect, with free boat service
Service: outstanding!
I've always been a boutique hotel fan.  You pay extra but you get extra.  With international chains, there's a cold and clinical element and I always feel a little bit reluctant to hand over my credit card. 
Not only did the Thai approach to customer service (which is always excellent) make the Millennium Hilton in Bangkok feel immediately warm, but the view from my room was amazing too.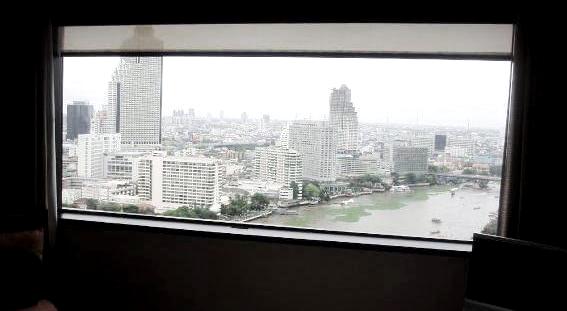 I admit that I was being treated to an Executive room and this gave me 24 hour access to the rooftop Executive bar…..so my review could seem a little rose-tinted.  But I assure you that nothing impressed me more than the members of staff who worked at the Millennium Hilton; from the concierge and the cleaning staff who passed me in the hallway, to the little lady who flipped my omelette in the morning, everyone was outstanding.
The Morning After The Night Before…..
What really impressed me, was when I walked into the Executive bar in the morning in search of either a) headache relief or b) snortable caffeine granules, and the waitress remembered my name from the previous evening.  This stopped me in my tracks – had I embarassed myself the night before? Had I spent all night dancing on the tables? I was relieved to remember that I only popped in for one drink before heading out to Khao San Road. 
"Bloody Mary?" she asked me after greeting me with a bow.  Not only did she remember my name, despite the state of my morning face, but she even remembered what I had ordered.  I felt like a VIP. 
Millennium Hilton Hotel Bangkok – The Perks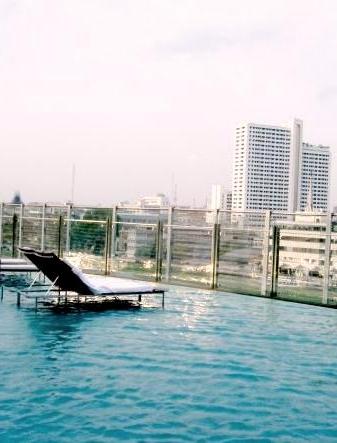 The infinity pool and beach deck wasn't a kick in the teeth either.  So yes, I was definitely in some sort of heaven.   And let's not forget the free Chao Praya river boat service taking you from the Bangkok Hilton's private pier to Saphan Taksin and River City every 20 minutes.  Convenience and stunning river views, all rolled into one great Millennium Hilton perk.
The Millennium Hilton in Bangkok was also the first place I tried Luk Chup, the delicate and artistic Thai marzipan dessert.  It was official – I wanted to move in and devour Luk Chup and Bloody Marys by the infinity pool for the rest of my life!  
On my very last night in Thailand, I moved onto (supposedly) greener pastures.  I treated myself to one night's stay in the gorgeous and totally luxurious Lebua.  And even though the hotel was exquisite, it didn't quite compare to the Millennium Hilton and the people on Charoennakorn Road.
Millennium Hilton Bangkok review by TheSmartGirlsTravelGuide.com
Related Posts :