There's nothing worse than being hungry when you're surrounded by unfamiliar food. The question is, are you brave enough to try what's on offer without identifying it first?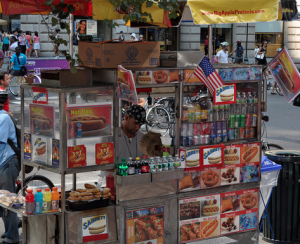 Here's a quick guide to some of the most familiar street food available – sorry it won't help you identify and avoid deep fried locusts!
European street food is not too scary for us Brits; after all we've probably already tasted a version without even leaving the UK. That's not to say that it was necessarily authentic or as tasty as the real thing, but we could probably identify the dishes and countries of origin in a line up.
Spain
In Spain you can start your day with a chocolate hug in the form of a churro. This is a choux pastry doughnut, deep fried of course, and enjoyed dipped in hot chocolate or café con leche. That's strong coffee similar to espresso, but with the addition of hot milk and sweetened to taste. When you're craving a savoury fix, mouth-watering paella featuring seafood and chorizo cooked to perfection is the way to go.
Italy
You can't wander around Italy without eating bucket-loads of gelato. This Italian staple surpasses all ice cream and comes in too many tempting flavours, hence the need to eat bucket-loads.
France
In France you can pick up delicious freshly baked baguettes with all manner of fillings. Tasty cheese fillers include brie or camembert. And if you've still room for something sweet, you can watch in awe as street vendors skilfully prepare crêpes.
Turkey
At street stalls in Turkey you'll find that late night favourite which appeals to us after too many tipples on a night out in Blighty – the doner kebab aka Döner kebap. Why not give it a go sober?! Definitely try simit, which is sesame bread similar to a bagel and often huge. For sweet treats you can't beat a sticky slice of baklava – hey, you are on cheap holidays so you can treat yourself if you want!
Across the pond – New York
Talking of bagels, when in New York, it would be silly not to buy one of these substantial, salty treats. The New York bagel is made using malt and salt and is boiled before baking. Although the origin of the hot dog may be questionable, it's a hugely popular street food in America. Often referred to as simply a dog, this sausage in bread combo is perked up with the addition of mustard or onions or chilli sauce or all three. Salty or sweet looped pretzels in various sizes are often sold from the same cart as hot dogs too. Of course doughnuts are available in many countries around the world, but the USA really does have a great selection. Choose from frosted aka iced, jelly aka jam or filled with vanilla custard or coated with coconut flakes.
New York City hot dog anyone?
Related Posts :