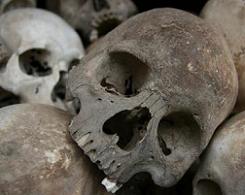 I really wish this wasn't so grim.  But I can't travel all the way to Cambodia and not report on one of the most brutal and shocking genocides of our time. 
This makes me very sad and angry – it's definitely worth a visit if you are travelling in Cambodia.   
The Choeung Ek Genocidal Centre can be found in Cambodia's capital, Phnom Penh.  This is just one of the many killing fields and Khmer regime camps around the country. 
Here is a photo diary of my day there.  Some of the images are pretty soul destroying so I apologise in advance if this upsets anyone.
The Killing Fields: My Day in Pictures