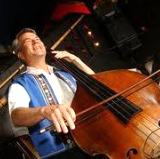 Cheesy fun at Hotel Edelweiss. Literally.
If you want nouveau cuisine with silver service waiting and nothing but the sound of clinking glasses and a distant orchestra in the background, go somewhere overpriced and disappointingly sterile.  The restaurant at Hotel Edelweiss is not for the snooty or boring. 
The Hotel Edelweiss is created for people who don't mind travelling back in time with the cheesy kitsch décor.  But in a more literal way, it's also created for dairy lovers who are desperate to dip their breadsticks into a glorious pot of cheese fondue after a day of exploring the beautiful city. 
Staying at Hotel Edelweiss, Geneva
A weekend break in Geneva doesn't come cheap, so Hotel Edelweiss was a blessing for West Yorkshire's poorest girl (I love to exaggerate).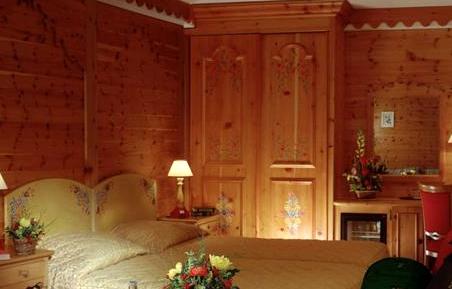 Expect a setting that mimics a kitsch and cosy ski chalet in The Alps, with wood panelled walls in every room, painted wooden headboards and yodelling in the background.  Totally cheesy ?  Without a doubt.  But everyone needs a sense of fun and silliness, eh? 😉
The Hotel Edelweiss Restaurant
The cheesy fun doesn't end with the décor either.  Whether you're a cheese addict or just a cheddar dabbler, the hotel restaurant offers the best cheese fondue in town!  Dip bread, dip carrot sticks and just about anything you want in the five cheese ocean of gooiness and let yodeling men whip you out of your seat for a song and dance on stage.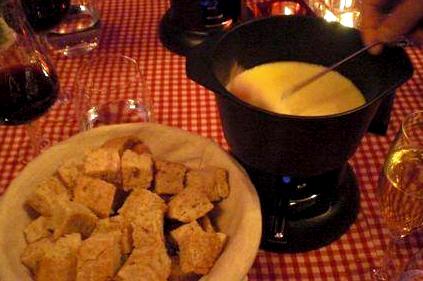 I've always been aware of that troublesome spark in my eye which says, "I'm here for your endless embarrassment", so I wasn't surprised when I was dragged away from my escargot starter and Swedish beer to play an alphorn in front of a restaurant full of people.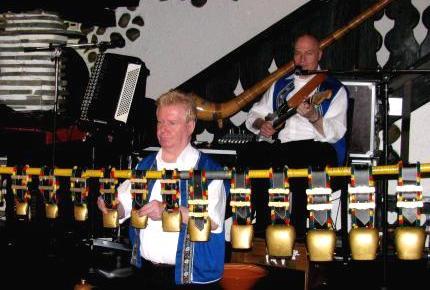 Quite possibly the most embarrassing night of my life and the loudest, rowdiest dining experience I've had in a while; I guess that's what gives Hotel Edelweiss in Geneva its charm. 
If you're visiting the luxurious city of Geneva this year, don't forget to check out Hotel Edelweiss, whether you decide to stay the night or just drop by for some traditional Swedish cooking. 
Enjoy Geneva – and don't forget to try Pave De Geneve.
Mags x
Related Posts :