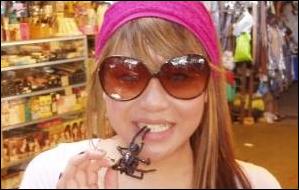 Valorously, I tasted what is known to most Cambodians as their country's very own caviar.  Unfortunately, the chance of cod roe or anything of that ilk was a pipe dream in the heat of the Phnom Penh Market.
A few blogs I had read informed me that fried arachnids would be tossed in a pan with garlic and other fragrant spices.  But as it turned out, this was just a misleading rumour.  I started to think that this whole spider eating tradition was just a sick conspiracy to make fun of Western tourists but I bit into the damn thing anyway.  As simple as it sounded, it was a tarantula that had been fried. No garlic.  No exotic flavours.  This was fried tarantula eating at its best, and there was no side salad as an accompaniment.
I tucked away leg by leg and panicked as I approached the tarantula's bulging abdomen; all that was left was the head and torso, and as nearby Cambodian stall owners watched me in amusement (or pity), I knew I couldn't stop there.
The body was a bit of a succulent surprise – and not in a good way – and the rest of this roadside snack could only be described as 'chewy'. Other than the added hairy sensation, there wasn't much more to boast about in the overall palate test but I did do it for charity so I didn't complain too much. And of course, I absorbed a great deal of Cambodia's heartbreaking history, first hand.
Fried Tarantula Eating and Bloodshed
Experiencing and tasting for myself the only food which was available to prisoners of the Khmer Rouge of 1975-79, made the crazy arachnid adventure worth all eight legs.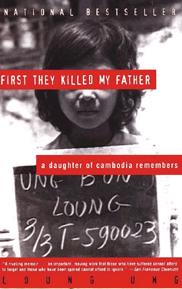 Throughout my poignant journey in Cambodia, I carried with me First They Killed My Father by Loung Ung, a little girl who years later published her experiences during the inhuman and cold blooded Pol Pot regime.The death of her father really was just the start and it certainly opened my eyes to the biggest downfalls of the human race. Eating bugs and grubs became the only way of survival as Khmer soldiers starved the Cambodian people enough to weaken them – but not enough to kill them for slave labour.
If you are planning a trip to Cambodia, I highly recommend that you read up on the recent histories of "Democratic" Kampuchea – and I am using quotation marks appropriately in this case.
More About Phnom Penh's Phsar Thmei Market

Many online guides will tell you about the "lively and bustling market stalls", the "exotic shopping experiences" and the Central Market dome being a "stunning French colonial landmark".  All of it is true, but what really stands out more than anything – and most travel guides may neglect to share with you – is the desperation that you see everywhere.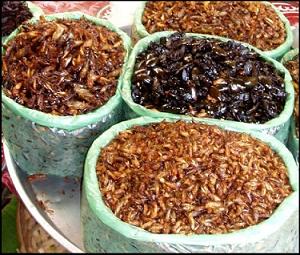 Very much like most areas of Phnom Penh and certainly most areas of Cambodia, tuk tuk drivers swarmed around the Central Market area, waiting for business.  Some of them take their kids with them.  Some of them sleep in their tuk tuks.
Walk through the market and the art deco French colonial structure is just a hot, sticky hall with poor families trying to shift their tack.  It tugs at your heart strings as every single stall owner practically begs for your business; I bought a toy phone for my tuk tuk driver's little girl.
I hope she still has it! ♥
All money raised was donated to The Lighthouse Orphanage, Phnom Penh, Cambodia.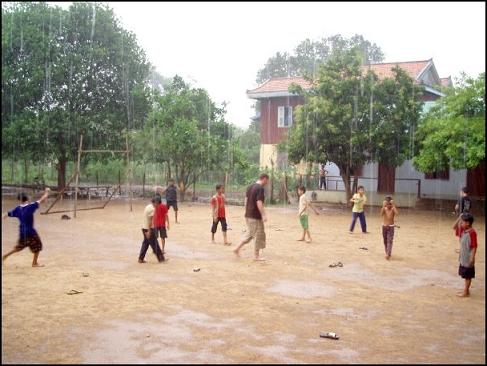 Related Posts :