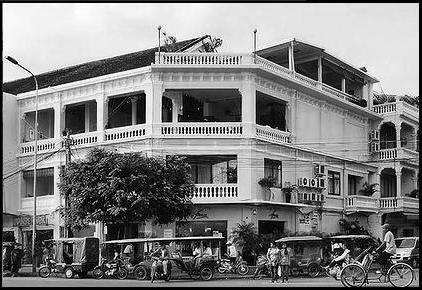 The FCC was an obvious choice for me.  With an attractive history of accommodating some of the most courageous journalists during the Khmer Rouge regime, it was anhonour (a geeky one) to sleep in the same beds as these heroes. That, and the location, are probably the only two outstanding elements of the hotel. But that's not to say that The FCC isn't worth a visit.
The FCC Phnom Penh Review
3 ★star rating
Price: reasonable
Location: good location overlooking river
Service: good
Online reviews, particularly on Trip Advisor, are very much just a rollercoaster of highs and lows from different people. Here I give you my story to hopefully enlighten you further…..
Pulitzer Prize winner, Sydney Schanberg and Khmer Rouge survivor, Dith Pran both stayed at The FCC, along with many other passing journos, politicians and movie stars throughout the years. But the one thing that struck me upon arrival was the lack of boutique-ness of this "boutique" hotel.  When you arrive at the lobby, you'll feel like a backpacker – unfortunately, when you pay your bill, you won't have the same satisfaction. Travelling around Cambodia requires understanding from our part; we won't always be comfortable and sometimes things won't be up to usual standards.  But if you can accept that you're not off to a Mal Maison boutique hotel, you'll find your stay at The FCC very satisfactory indeed.
The location is great; in the heart of the waterfront district with plenty to see, eat and drink nearby so maybe the lack of interior design excellence is a fair sacrifice.   For somewhere between £70-£100 per room and per night, it doesn't live up to the price range in Cambodia.  But personally, I found the service pretty reasonable.  Nobody fussed over me as a guest, but nobody was rude to me either.
Breakfast was delivered to my room every morning and I was lucky enough to have a balcony to enjoy it on. Consisting of traditional savoury porridge (Bobor), bread and a selection of fruit, the breakfast tray wasn't groundbreaking but you have to bear in mind that the country suffers under poverty and fine ingredients are not readily available.
The FCC Phnom Penh hotel has a great restaurant and bar, with open air dining.  The atmosphere is relaxed and the food is made to a good quality and is well presented.  Cambodian cuisine isn't exactly a favourite of mine, but what I do really admire is the fusion created from multicultural influences.  As a French colony and a hotspot for rich Chinese immigrants, Cambodian cuisine takes a little pinch of charm from each.
I'd say that my adventures in Phnom Penh were too significant and too brilliant to let a hotel sway my overall experience.  The location is fantastic, the rooms are comfortable enough and the money-can't-buy journalistic history is probably enough to get you there alone.  I wonder whether Sydney Schanberg ever enjoyed a bowl of Bobor on my balcony? As a writer myself, I'd really like to think so.
Related Posts :