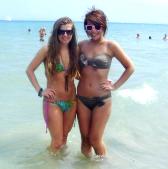 It's that time of year…..you and the girls are emptying your piggy banks and selling unwanted (unworn) dresses on ebay to afford a better hotel than the last (you know, the one where your shoes stuck to the floor, and yes, we've all been there).
But scrimping and saving the pennies isn't easy when you're a self-confessed party girl who just can't say no to the lure of cocktails and all-night dancing….
Here are some of my budgeting tips if you are looking for a last minute beach getaway with the girlies this summer. They might help to ease your purse strings a little, but don't blame me when you end up overspending on a pair of shoes or a handbag prior to your hols! It happens. 😉
1. Build your own holiday package
I always avoid speaking to an agent or taking my cash into a travel shop. I like to do the searching myself and a lot of the time, finding my own flights and hotels works out cheaper than going for a ready-made package deal.
Personally, I like to use Skyscanner.net for flights and I am willing to put aside a good couple of hours (avec the girlies and some alcoholic bevvies of course) to browse around comparison sites (I used this one for a beach holiday recently) just to make sure I am getting the most from my money! So ladies, patience is a virtue. Keep working that mouse and carry on browsing! 😉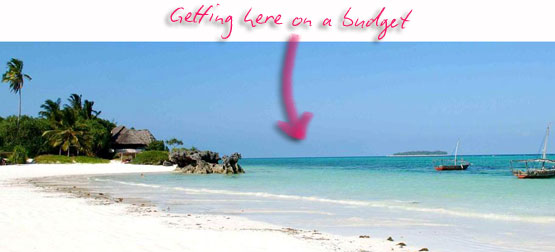 2. Choose apartments instead of hotels
There are so many money-saving benefits of choosing apartments instead of hotels:
Split the cost between the group – sometimes, the larger the gang, the cheaper the apartment. Charged per property, you can find the best price to split between the girlies.
Make your own breakfast, lunch & dinner – apartments usually have a nice little kitchen complete with pots, pans and crockery. Save on meals out by whipping up your own dinners (I admit that it's usually just ham sandwiches, crisps and vodka for me though, ha ha).
No hidden costs – with hotels, you are also paying for the running an upkeep of the hotel reception, the hotel restaurant, the cleaners and any other services provided to guests. So you'll be surprised at the amazing savings you'll make by choosing self-catering accommodation.
But apartment hire isn't for everyone. There are also many upsides up choosing hotels if you're planning a clubbing holiday (such as having the peace of mind of 24 hour receptions and security, or a place to meet other holiday makers). If you prefer hotels, make sure you search around online too.
3. Back to basics with your wardrobe
Why does everyone think that it's essential to get a whole new wardrobe when you go on holiday? So many people forget that basics will do for the beach and raiding (or wading) through your existing collection can sometimes be sufficient. I've been digging out some old basic tops, shorts and playsuits for Croatia and I have already made up 50% off my suitcase!
A few tips on reinventing your old basics:
Customise plain pieces – if you're a dab hand with the old needle and thread (or just a pair of kitchen scissors will do), you can transform long tops into crop tops, dresses in skirts, jeans into cute hotpants…..the wardrobe is your osyter!
Accessorise – if you want to keep on top of the latest trends (such as neons, Aztec print or pastels for SS12), it's very easy to jazz up old tops and dresses with key accessories. A chunky neon bangle and handbag or an Aztec print forehead band can bring a jaded ensemble to life so instead of splashing out on whole new outfits, just shop for a few accessories!
Swap instead of shop – my friend Remie donated some unwanted bits and bobs to our friend Kira the other day and it gave me the idea of raiding each other's wardrobes before flying! Sometimes, we don't like things but it doesn't mean it won't look amazing on someone else so Kira's having a nosy behind my wardrobe doors tomorrow.
…..and sharing clothes and accessories during your hol isn't a bad idea either…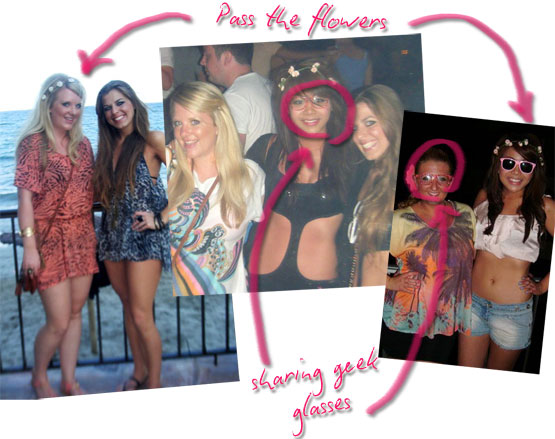 If you're looking for fashion tips, don't forget to visit my fashion blog (I work in fashion and I am a cheap-skate too, ha ha!).
4. Clever packing between friends
Ok, you have to be super organised about this; decide who's packing what so you don't need to fork out for everything. Things like shampoo, hair conditioner, travel hairspray, tooth paste and deodorant can be shared out between you. Not only does this save you pennies whilst shopping for holiday essentials but you can also make your suitcases a lot lighter.
Cheap flights often charge per suitcase on weight allowance. Sharing packing responsibilities for heavy items like hairdryers, curling tongs and straighteners can ensure you don't incur extra charges during check-in. Phew!

I hope you've found this useful. From one poor girl to another – over and out!

Related Posts :