If you are an owner of a caravan or thinking about purchasing a caravan then you may find this article quite useful. Once you have used your caravan for your travels you would generally leave it on your drive or in your garage, right?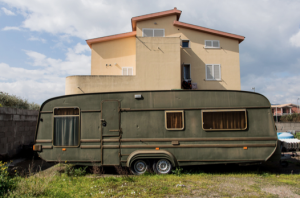 In fact rather than just letting your caravan build up dust, why not put it to good use even when you aren't travelling around with it!
Make your caravan useful:
–        Extra storage space: when the summer is coming to an end and you have made good use of traveling with your caravan why not use it for extra storage space?  Often we accumulate a lot more things than intended resulting in finding it hard to find storage for everything. Have you ever considered using your caravan to store away all of your summer things? Such as suitcases, inflatables, parasols etc. These are items that you won't want to store indoors and a caravan would be put to great use if you don't have a garage available. It also makes sense to store summer items within your caravan as they will be easily accessible for the next time you choose to use your caravan.
–        A hangout space: do you ever want have some time to yourself without being disturbed? Why not use your caravan to chill out in and wind down with your favourite read? You could also use your caravan to escape from a family member or partner when you need a quiet moment to yourself!
–        Extra sleeping space: if you are having a get together but are limited to space in the house then why not have some of your guests sleep in your caravan? This will be extremely handy over the festive season when all the family come to visit.
–        Portable kitchen: if you are going on a day trip then why not bring your caravan along to use the kitchen facilities? You could park up at your favourite spot and make whatever you wish saving yourself money as well as having the choice of what to eat yourself.
–        Transportation: when it comes to the time of having to take a trip down to the tip are you usually limited when it comes to space for transporting your unwanted goods? Why not use your caravan for extra transportation space? You will be able to transport twice the amount as usual which means fewer trips to the tip! You'll never have to tie anything down to the roof of your car again.
–        Antisocial activities: do you have a hobby that you want to pursue but it could be seen as a nuisance for the rest of the house? How about making music, home brewing or even using your caravan as a work space if you need to stay up later then the rest of the members in your household? Your caravan can be used as your own personal space so that you aren't an annoyance to others.
If you are going to use your caravan to store valuables, you will want to look into some serious caravan security. The last thing you want is to lose your parasols!
Related Posts :