The world is home to some truly incredible sights – some natural and some manmade – and many people are keen to try and capture their own impression of these beautiful locations on film. There are many really spectacular places for photography – we're going to pick out a few of our favourites.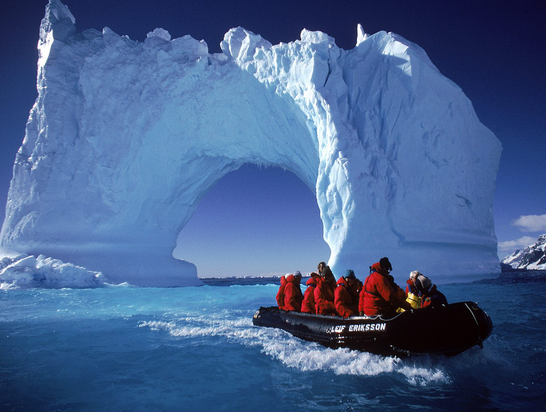 Antarctica
The Antarctic isn't the most accessible of places, but that means it is one of the most untouched landscapes on the planet. Its mountains, ice cliffs, icebergs and coastline are all waiting to be discovered and the scenery is perfect for landscape photographers.
What's more, the region is home to a host of unusual and fascinating wildlife, such as the fearsome leopard seal, the majestic emperor penguin and the graceful albatross. If you want to have a chance of capturing some good shots of the local fauna, make sure you pack a telephoto lens.
If that's piqued your interest in travelling to the Antarctic, you'll find further information about itineraries here.
Cambodia
For landscapes of a very different kind, head to Cambodia in south-east Asia. This country is home to some particularly striking manmade monuments, most notably the temple complex of Angkor Wat. There are some amazing photography opportunities here, with wonderful wide-angle shots and intricate details in the stonework waiting to be captured on camera.
In the nearest town to Angkor Wat – Siem Reap – there are also some great scenes, such as the Wat Bo pagoda, which sits near the river, and the charming wooden houses that are built on stilts. The city of Phnom Penh, meanwhile, is an fascinating contrast of old and new, with traditional pagodas and temples surrounded by modern buildings. Trying to capture this juxtaposition on film can be a challenge, but one that's incredibly fun for enthusiastic photographers.
Ecuador
If it's wildlife photography that you're interested in, you'll struggle to beat the Central and South American nations, with Ecuador in particular standing out. One of the highlights of this country is the Galapagos Islands, an incredible archipelago that is home to many species found nowhere else on earth.
Blue-footed bobbies, frigate birds, marine iguanas and giant tortoises make especially stunning subjects, but you'll find many other striking animals to shoot photos of here as well. Another place in Ecuador that wildlife photographers will love is the Amazon Rainforest. The reflection of the trees in the river is an evocative image, while there are dozens of creatures that inhabit the jungle and that you should look out for.
The indigenous villages and houses on stilts that jut out over the water are especially good spots if you want to capture something of the human side of the Amazon basin.
New Zealand
For breathtaking and varied landscapes, there are few better places in the world than New Zealand. Across the two islands you have everything from sandy coves and towering mountains to impressive fiords and vast lakes – not to mention the geothermal sites like Rotorua and bustling cities such as Auckland and Wellington.
Travelling around the country will give you the chance to snap photos of a host of different scenes, although perhaps one of the most impressive is Cape Reinga, at the north-western tip of North Island. From this vantage point you can see the tidal race where the Tasman Sea and Pacific Ocean meet. The coastline here is stunning, with rugged cliffs, golden beaches and rolling waves for you to admire.
Related Posts :