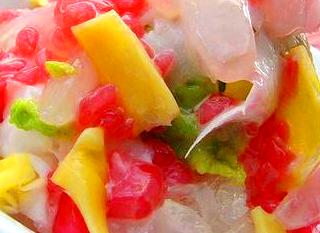 When you think of fine chocolate, you think of Belgium.  When you could just do with a patisserie, Paris springs to mind.  When you want ice cream, you want a creamy Italian ice cream (if you know what's good for you) and when you want a heart attack in a ring shape, you think of Krispy Kremes and Dunkin' Donuts from America.  But South East Asia has never been famous for its desserts. 
When I visited Singapore, I was pleasantly surprised by its colourful selection of desserts.  Streets were dotted with quality bakeries, serving light and fluffy cakes that were decorated with fruit and fresh cream. But what really got my saliva flowing was the endless rows of cold dessert stalls found in food courts (food hawkers) and street markets. 
Ais Kacang & Aloe Vera Desserts in Singapore
Despite what many people think of street food, Singapore food hawkers are extremely safe and sanitary places to eat, and it's here that I came across some of the most interesting desserts, such as Ais Kacang and a selection of Aloe Vera desserts.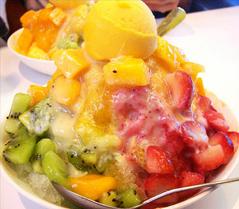 My favourite was a refreshing combination of mango chunks, aloe vera jelly pieces, fresh strawberries and kiwis, topped with sweet, condensed milk.  And although I felt like I was indulging in something wicked, the reality was that everything in my dessert bowl was pretty healthy. Bonus! 😉
Aloe vera is not only good for our hair and skin but it is said to possess an overall 'healing property'.  With anti-ageing properties, this delicious dessert can help you look younger – who said pudding wasn't good for you?
Singapore Snacks, Drinks and Desserts
Food courts are great places to eat when you are in a group / family because you can all pick a different stall to get your food from.  If you fancy indulging in a street food bonanza with multiple courses, you can stall hop to your heart's content.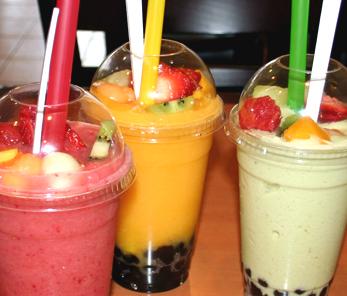 I tasted a range of mouthwatering treats at the Commonwealth Crescent Food Centre near Queensway and the Ridout Tea Garden. 
If you visit a food hawker in Singapore, be sure to check out the amazing selection of desserts available at these little food stalls.
You will find some weird and wonderful combinations such as:
Aloe vera desserts (with jelly and fruit)

Black grass jelly and green grass jelly with cream / milk

Red bean soup (served cold)

Black sesame paste (served as a broth)

Red tea jelly

Ais Kacang (shaved ice dessert with fruit)

Almond paste

Barley ginkgo

Bubble tea and other cold drinks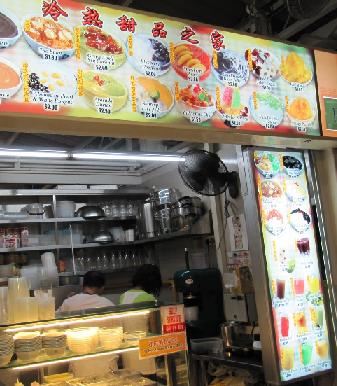 Bubble Tea and On The Go Treats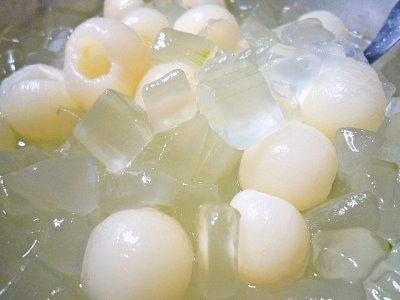 From lychees and grass jelly to aloe vera and blueberries, there are so many refreshing options for drinks and desserts. Many stalls will sell cooling beverages such as Bubble Tea, which can be consumed on the go. 
Bubble Tea is a famous Asian drink that is loved by travellers from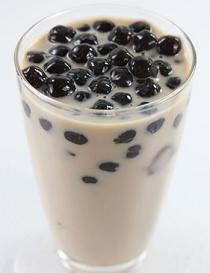 all corners of the globe.  This white coloured drink is made with a tea base and usually has fruit syrup to taste, and is filled with topioca pearls which sink to the bottom.  These yummy pearls are made with a starch extract and have a nice, chewy texture to them. 
Other street foods in Singapore are great too, including the delicious noodles and meat/rice dishes. But nothing is more inviting than an ice cold fruity dessert in the intense Singapore heat, which is why I love these stalls so much.
Most food hawkers are open until the late hours of the evening, so whenever you need to quench your thirst you should be able to find somewhere to curb your craving.
Related Posts :