A charming city with strong roots to the rich history it boasts, Bruges is an outstanding place that has long been thought of as one of Europe's cultural capitals. The capital of Belgium is best identified from its Gothic constructions and it is the architecture as a whole that makes it stand out. Perfect for a long weekend, here's why.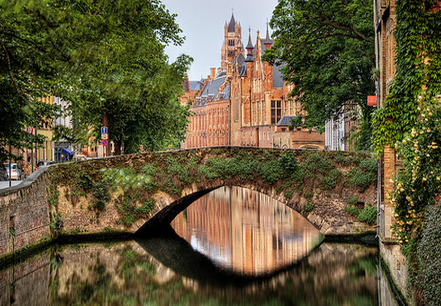 The Venice of the North
While as many as seven cities have been referred to this over the years, Bruges is quite easily the most realistic recipient. With picturesque canals across the Belgian capital, the largest city in Flanders was once connected directly to the sea. In times gone by Bruges was called the "chief commercial city" of the world thanks to these links and a thriving port.
UNESCO site
If there's one thing that really hammers home how special a place is it's becoming classed as a World Heritage site. That's exactly what the historic centre has been since 2000 thanks to the innovative artistic influences and a stuttered ensemble of architecture over the years that stands as a testimony to the acceptance and exchange in various influences. Now, it is this alongside a lively city with urban living and these mixes are what makes the city so great.
Museums
With so much history, you have to be expecting something special in terms of documenting it. The collection in Bruges is hugely diverse and ranges all the way from contemporary art to archaeological excavations and primitive Flemish art. There are a few good stops like the Groeninge, Memling in Sint-Jan and Folklore but a highly recommended tip is to get on your bike and do the art route around the beautiful greenery.
Beers and chocolate
Though not necessarily at the same time, these are two things to taste over a weekend. Perfect on a couples holiday with around 178 breweries in Belgium, beer tasting is a great history tour that goes all the way back to the crusades. Microbreweries to international names, there's everything to try – don't miss Leffe, Hoegaarden or Rodenbach. Meanwhile, the chocolatiers will go to town on your sweet tooth, especially down at 'The Chocolate Line' with wacky flavours.
Landmarks
There's so much in terms of culture to justify a long weekend, but there are also stunning landmarks. A trip to Bruges cannot be complete without a trip to the beautiful medieval square of Burg, a fascinating and tiring trip up the Belfry and the Palace of the Liberty of Bruges which is a unique, world-class hotspot.
Treating yourself
A long weekend in Bruges is often seen as a romantic break, and it can be the perfect escape for you and your loved one. Take the time to treat yourself to chocolate there but before you go you can get in the mood by investing in some fancy women's lingerie. It always adds to a holiday!
Some might feel that Bruges is too small to be worth a significant amount of time but nothing could be further from the truth – something that you will notice as soon as you reach the enticing city.
Related Posts :